There are many reasons why physicians and advanced practitioners choose to pursue locum tenens work rather than permanent employment at a healthcare facility. Greater flexibility, higher pay, and the ability to provide patient care wherever it's needed most are just a few.
There are also a lot of reasons why healthcare facilities hire locum tenens clinicians: ensuring they're adequately staffed to meet patient demand during COVID or flu season surges, opening or enhancing existing service lines and providing much-needed burnout relief to permanent staff are among the top ones.
And LocumTenens.com associates have many reasons why they're #ProudToBeLT, but when we ask, there's one answer we hear most frequently: having the ability to improve the quality of healthcare by providing patients access to quality medical care.
Those are just some of the reasons why our clinicians, clients and associates are #ProudToBeLT, but below you'll find more. This page serves as a spotlight on the industry enabling cross-country patient care, and we're proud and appreciative you've chosen to be a part of the LT family.
"Caring for these patients is what puts life in my veins."
Dr. MaryAnn Curl
Dr. Curl began working as a locum tenens clinician right before the COVID-19 pandemic struck, after a 16-year career with Veterans Affairs.
"Corrections work seemed like a frontline job where I could define both myself and my career in terms of clinical work. At the point in my career when I started doing locum tenens work, I didn't want to do any administrative work at all," shares Dr. Curl. But working in corrections turned out to be rewarding in more ways than she originally anticipated.
"For me and for so many other physicians and advanced practitioners, medicine is a calling. It's not just a job or a paycheck. I need to be able to connect with my patients and my coworkers and be useful to them. I want to help them better navigate their care and add value to my team. Working in corrections makes establishing that connection easier."
While some clinicians have reservations about accepting corrections assignments, Dr. Curl has none. "I have never had one moment where I felt unsafe, which is so important."
Corrections Q&A featuring Dr. Curl
#ProudToBeLT: Taylor
Account Executive, Anesthesia
"I love telling people I work for LocumTenens.com. I'm proud to state that – ultimately, the work we do every day results in a patient being seen that otherwise would not have been seen. We're given the opportunity to match a clinician's preferences with needs of healthcare facilities that result in more patient care. Who wouldn't love doing this? In addition, the culture and atmosphere at LocumTenens.com brings overwhelming joy and satisfaction. Simply put, we're a family of people helping connect clinicians to patients in need."
"I'm able to devote so much time to mission work due to locum tenens."
Sonata Bohen, CNS, APRN, psychiatric nurse practitioner
Sonata Bohen is a psychiatric nurse practitioner who works locum tenens so she has the financial freedom and flexibility to pursue her passion of serving on medical mission trips.
"It doesn't matter who you are; you don't need to be a medical professional to help change lives for the better, both yours and the people you serve," says Sonata. Because of the tremendous impact she has made in the lives of patients both at home and abroad, Sonata was the recipient of the MedicalMissions.org Clinician of the Year Award in 2021.
Sonata has advice for those who also wish to pursue mission work: "The key is being committed to long-term relationships. You must keep at it. It may feel unpleasant to leave your comfort zone of what is known and predictable, but pushing through is worth it; you grow and learn so much and find you have even more to give. It is so much about just listening and being. It's not so much about 'doing'."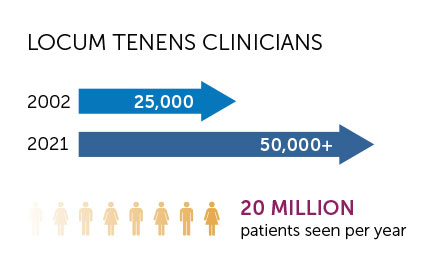 Chris Franklin, president of LocumTenens.com, chatted with Atlanta Business Radio host Lee Cantor about the locum tenens industry, how it has been impacted by COVID-19 and what he anticipates for the future of healthcare. View the interview transcript here.
#ProudToBeLT: Rashon
Associate Account Executive, Radiology
"I'm proud to work at LocumTenens.com because of the impact we are able to make in our communities by helping facilities that are short-staffed connect with different providers who are able to provide excellent patient care. The charitable work that we do in our local communities makes me proud to be part of something special."
"Locum tenens has given me more time to accomplish my goals outside of work."
Miechia A. Esco, M.D., PH.D., RPVI
Dr. Miechia Esco is a vascular surgeon focused on full-time locum tenens work and licensed in 15 states. For the past several years she has served as a consultative member on the LocumTenens.com Customer Advisory Board and now serves as the company's Chief Medical Resource Advisor.
"Although I've always been passionate about my work, I realized several years ago I wasn't quite happy because I felt out of touch with my patients and the communities where I served, so I decided to try working locum tenens," says Dr. Esco.
"Making a career change is almost always scary, but the decision to work locum tenens was easy for me. I knew that I would be able to choose where I would work and when I would work. Permanent positions don't allow that kind of flexibility. If I decided I wanted to travel to a different state, I could ask a recruiter to find me a position there. To spend more time with family, I could ask a recruiter to find me an assignment with fewer hours."
#ProudToBeLT: Janet
Proposal Specialist
"LocumTenens.com exudes compassion and is continually raising the bar to better the lives of its community, clients, providers, associates and the patients we serve. LocumTenens.com offers an incredible support system. It's like no other company I have ever worked with in the past."