The Gig Economy And The Pandemic
Dr. Miechia Esco, a vascular surgeon focused on full-time locum tenens work, presented a webinar on the future of work in healthcare and redefining the role of physicians in the gig economy. Dr. Esco explained that the definition of work itself is evolving, no matter the field.
"During the pandemic, everything changed for everyone in every possible way," she said. "The definition of work itself has evolved profoundly."
The pandemic has exacerbated a growing shortage of clinicians, placing a serious strain on American's access to healthcare.
Forty percent of all clinicians who are able to practice medicine under 50 are not. That's pretty startling," said Dr. Esco. "We need to understand why clinicians are not practicing medicine. What happened, what changed?"
Now more than ever, clinicians are demanding more income, freedom and flexibility. The last three years have had an impact on attitudes towards work in every sector. Workers' expectations have shifted, and hiring managers need to re-prioritize in order to address the needs of healthcare providers directly and get ahead of an imminent healthcare labor crisis.
"The Gig economy as a whole is growing three times faster than the workforce as a whole and has generated $1.3 trillion in revenue," reported Dr. Esco. "Just like everything else, the future of work is taking a new shape."
Adapting To and Incorporating Physicians' Requirements
Dr. Esco addressed several strategies on how to adapt and flourish in this new normal. She stressed the importance of understanding your clinicians and their level of exhaustion and strain. As observed in the Future of Work Survey Report, clinicians are leaving patient care due to burnout/moral injury, COVID-19 and surrounding circumstances, and the contemplation of retirement.
Like gig workers in other sectors of business, physicians are looking for flexibility. The current state of the industry has left them seeking to build careers that fit their desired lifestyle. Physicians are no longer interested in hearing the term "burnout". To them, it's known as moral injury. It's not about a physician's ability to endure, but rather the unreasonable and immoral demands and pressures placed on them.
Level of burnout among employed clinicians (Non-Locum Tenens)
Clinicians who are looking for new opportunities within a year
"We have to focus on the system. Focus on the environments and circumstances causing these responses rather than the clinicians," she said. "They are working really hard to care for the patients, bus scheduling pressures are intense. Alleviating scheduling pressures would make a huge difference in burnout and moral injury."
Investing in your workforce
Clinicians are exhausted and looking for new options including working locum tenens to diminish some of these scheduling pressures. A desirable work style for many, most clinicians report being interested in either contract or travel locum tenens work.
Have interest in local contract work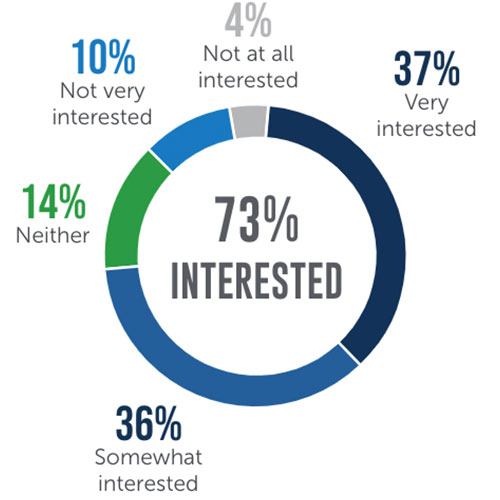 Have interest in local contract work
Dr. Esco then lead into the importance of investing in your workforce and putting in the effort to fix the systems in place rather than blaming clinicians themselves. Currently, physicians are under tremendous pressure to see more patients in less time, with fewer support staff. This not only depletes clinicians' energy but also hinders personalized care to patients. It is essential for facilities to focus on scheduling, as 88% of clinicians agreed that alleviating scheduling pressures would make a positive impact on their level of burnout.
Investing in staff includes hiring support for clinicians in the form of a robust team of Advanced Practice Providers (APPs), creating wellness programs for providers, celebrating successes and openly listening and supporting both new and tenured staff. Implementing flexible staffing solutions such as remote work, will also aid overworked clinicians.
Embracing the gig mentality is a vital solution within an overall workforce strategy. Demands placed on the healthcare workforce are a serious threat to U.S. healthcare. Protecting workforces, understanding staff and creating flexibility are all ways to adapt to the changing healthcare landscape.