What do healthcare practitioners think of the current and future state of the healthcare industry? In June of 2020, LocumTenens.com surveyed 940 healthcare providers across all specialties, which included physicians, CRNAs, certified nurse midwives, nurse practitioners, physician assistants, clinical nurse specialists and psychologists, to evaluate the current healthcare landscape. Survey responses cover employment status, telehealth usage, furloughs and layoffs, mental health of both patients and healthcare practitioners, and resuming procedures.
Explore the categories within the survey report by clicking on one of the buttons below to jump to that section. 
Current Employment Status  Independent Practice Owners  Telehealth Adoption  Patient Visits and Care  
Mental Health of Patients and Providers  Future of Healthcare  Survey Demographics
Employment status due to COVID-19
Almost half of respondents to the survey were employed in a permanent or part-time position as of June 2020, with 13% of respondents owning their own practice and 30% working as locum tenens or independent contractors. 
Of those who selected "unemployed" as their employment status, 64% stated they were unemployed as a result of the COVID-19 pandemic affecting their practice.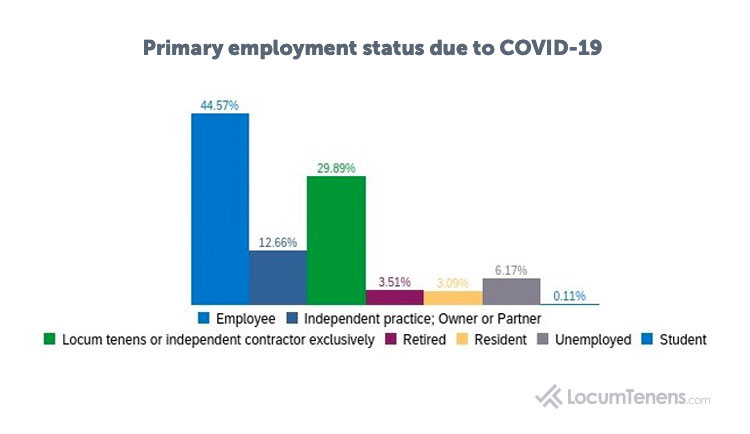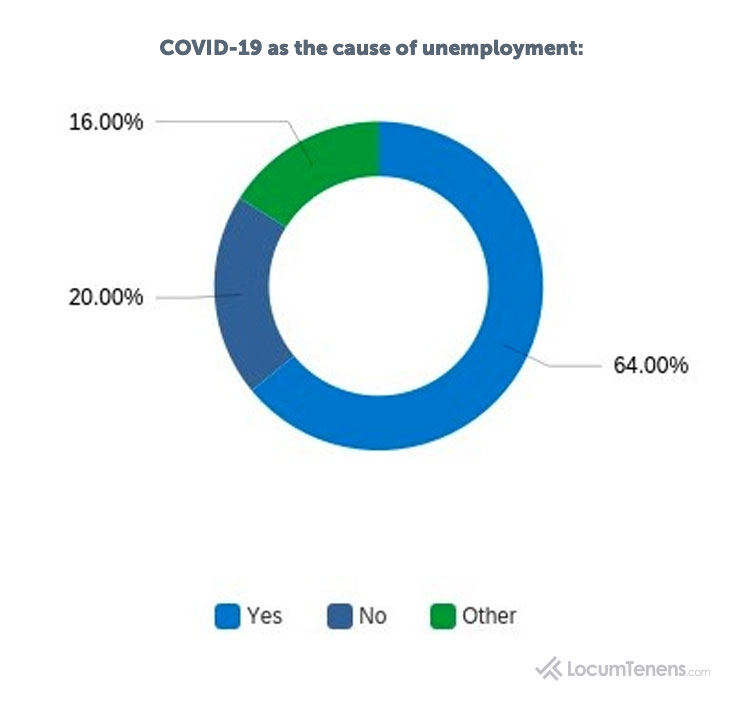 More than half of all respondents were from organizations who had employees either furloughed or laid off due to COVID-19. Forty-six percent of respondents stated "other," which included those whose organizations were not affected.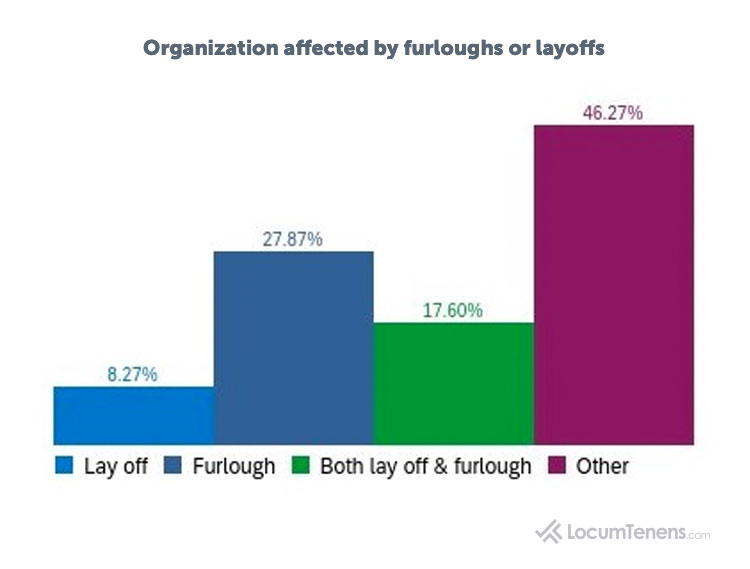 The length of time the respondent has practiced medicine did not seem to have much bearing on if they lost their job, revealing clinicians at all experience levels were affected the same when it came to layoffs and furloughs. However, those working five years or less did have a higher rate of unemployment (9%).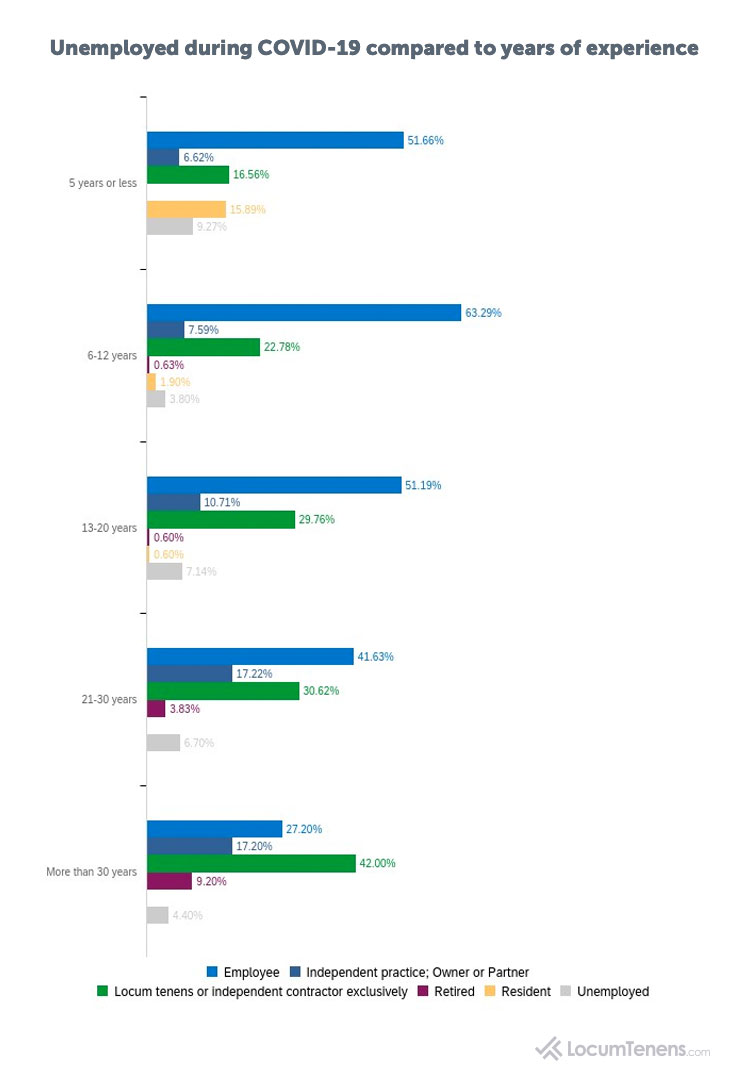 More than half of respondents from emergency medicine, primary care and anesthesia reported their organization faced either layoffs, furloughs or both.
Organization affected by furloughs or layoffs (top three specialties):
Emergency Medicine: 67%
Primary Care: 56%
Anesthesia: 63%
For those who selected they were retired, approximately a third came out of retirement to help with the pandemic, and almost half (42%) are considering it.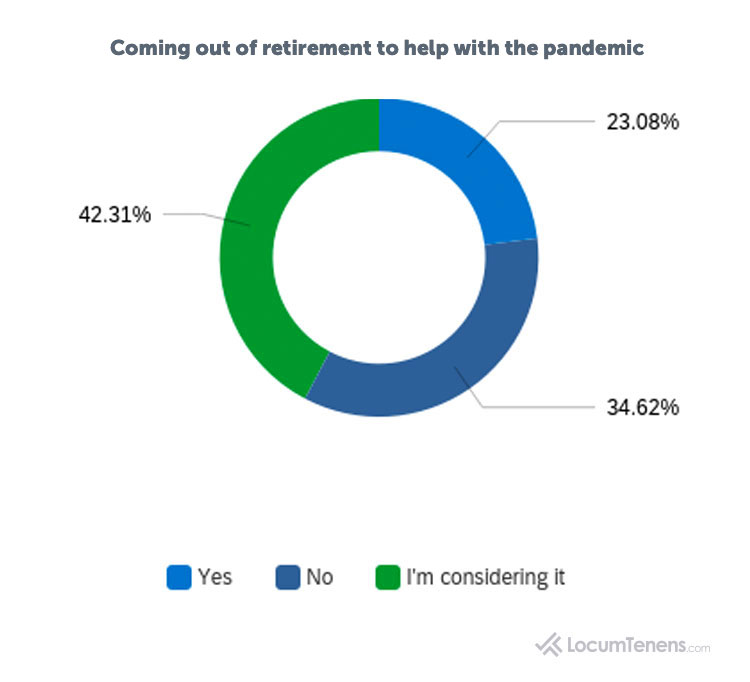 Effects of COVID-19 on independent practice owners
Eighty-seven percent of respondents who are owners of an independent practice say they are concerned for the future of their practice. However, only 2% say they have plans to merge their practice or become part of another organization due to COVID-19.
Of surgeons who own their own practice, 82% are very concerned for the future of their organization.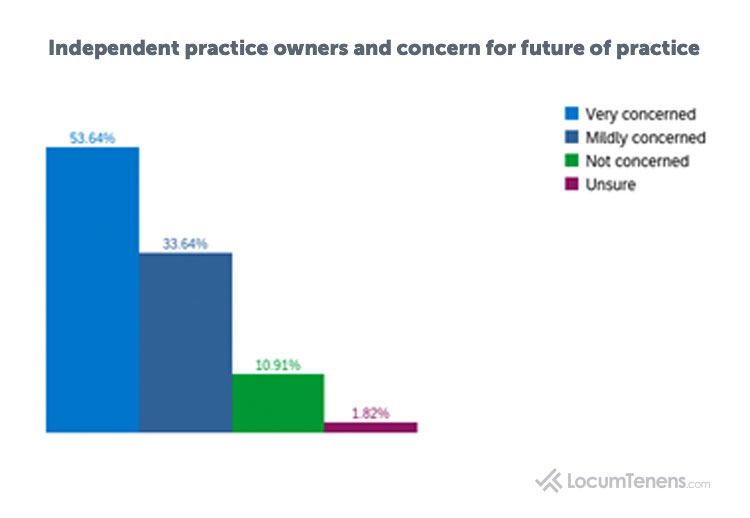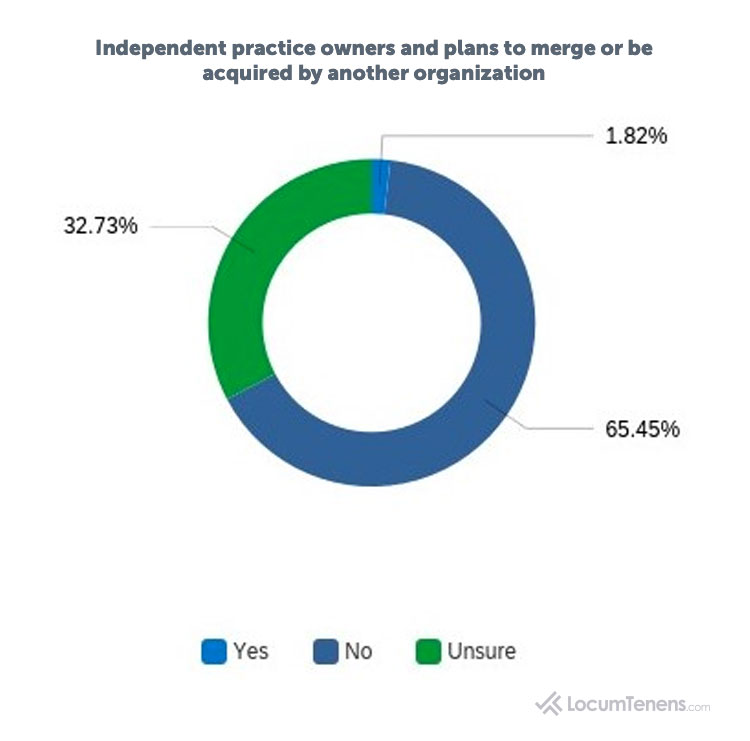 Eighty-eight percent of those who have practiced more than 30 years reported no plans to merge their practice, while only 30% of those practicing five years or less have no plans at this time to do so.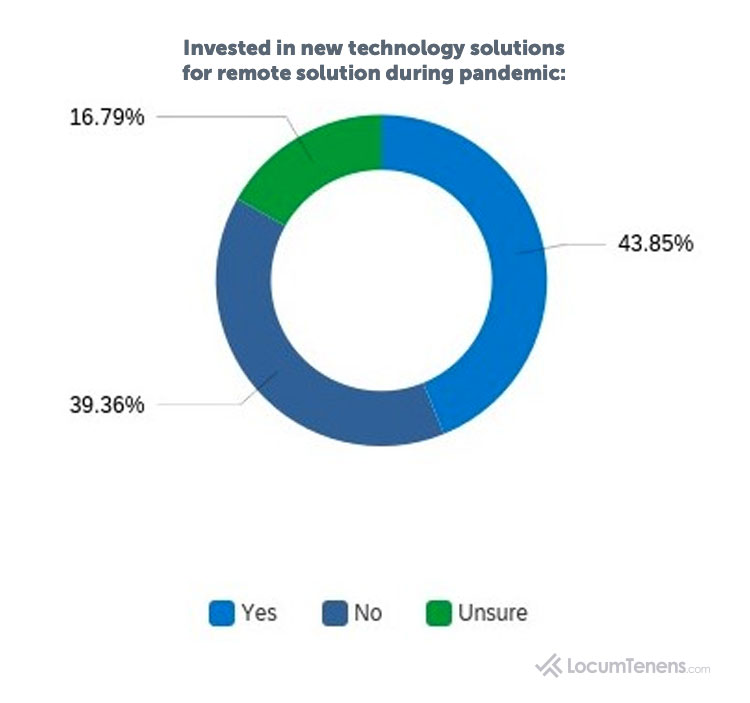 Interestingly, 62% of independent practice owners stated they did not invest in new technology solutions to be able to communicate with patients remotely, but 28% of them say they plan on instituting telemedicine programs to care for the expected surge in mental health patients as a result of the pandemic.
Primary care and psychiatry saw the greatest increase in telemedicine services, but there was also a noticeable increase for OBGYN, surgery, emergency medicine, hospital medicine and critical care.
Respondents who indicated they or their organization has increased use of telehealth services during COVID-19 (by specialty):
Psychiatry: 91%
Primary Care: 87%
Critical Care: 78%
Hospital Medicine: 74%
Surgery: 70%
OB/GYN: 62%
Emergency Medicine: 51%
Though most respondents are incorporating telemedicine into their strategies, there are still some concerns with implementation. Forty-four percent of respondents reported having at least some concern with practicing telehealth. As one pediatrician stated, "Expanding telehealth is a goal for 2020. Unfortunately, due to the pandemic, telehealth has been thrust upon us with little preparation, and therefore much trepidation on the part of clinicians."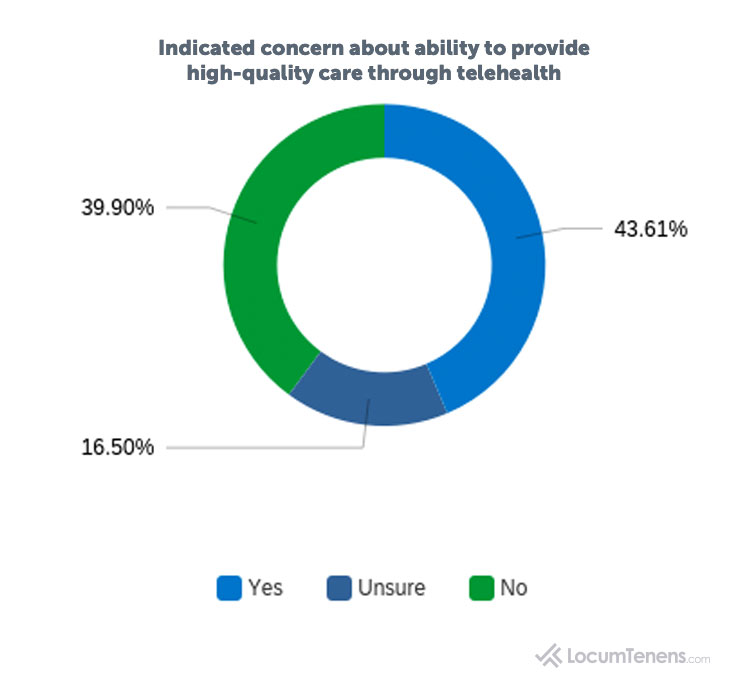 Clinicians who have practiced the longest had the the highest concern about providing telehealth care (49%), while those who are the newest providers have the least amount of concern (39%) among all experience levels, revealing practice level could affect the resistance to adopting telemedicine.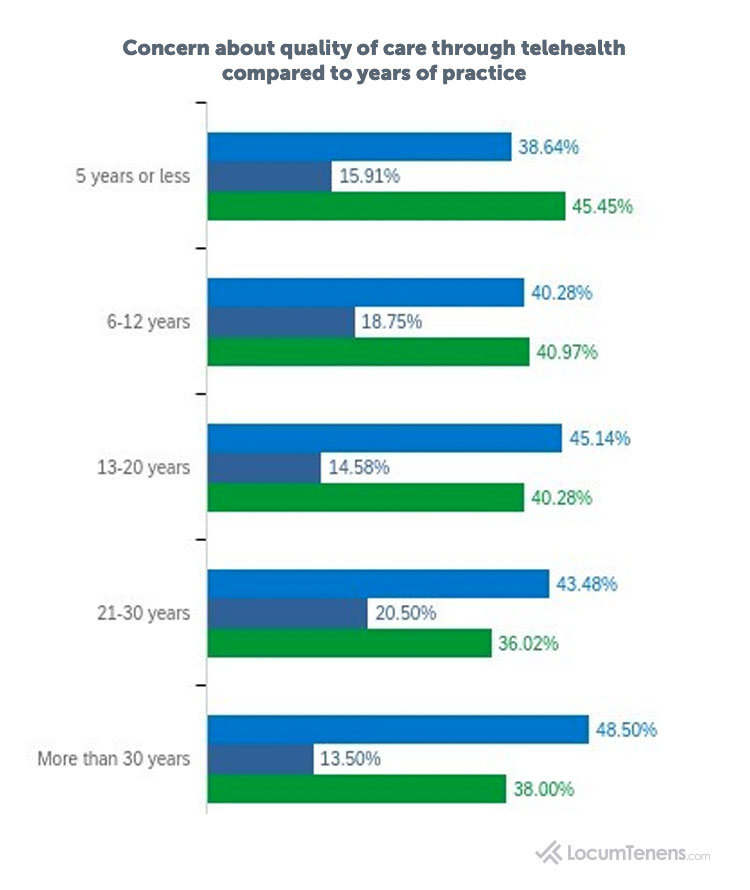 Regardless of their thoughts on telemedicine, when asked what they thought the "new normal" in healthcare will look like, 40% of all free-form answers mentioned some form of telemedicine or virtual care being here to stay. "Telemedicine will expand and new technology for diagnosing and prescribing will occur," commented a nurse practitioner in emergency medicine.
COVID-19 Effects on patient visits and care
One of the greatest concerns many clinicians have for their patients is the worry their patients' health can deteriorate by avoiding or delaying routine or preventive care. Almost three-quarters (71%) of respondents saw at least a 25% decrease in patients coming in for preventive care, with more than half (57%) of respondents seeing at least a 50% decrease.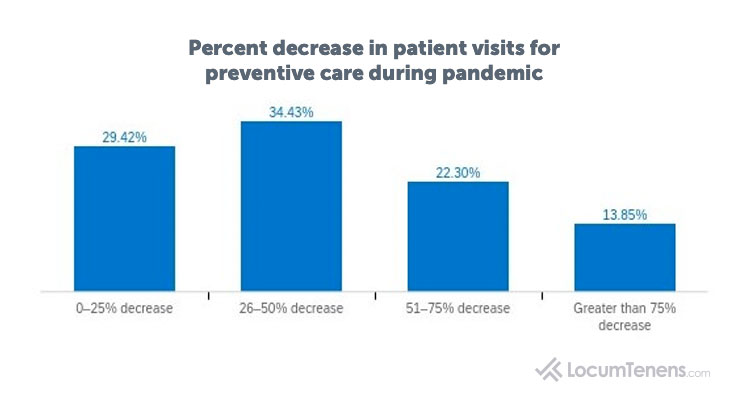 When asked to what they attributed this decrease in visits, most respondents overwhelmingly (78%) said due to patients canceling appointments over fear of COVID-19, while a large number (63%) also said due to their own practice canceling the appointments over the same fears. The survey asked recipients to select all that applied. Some of those who selected "other" wrote that their facility shut down or that elderly patients had difficulty transitioning to telemedicine appointments.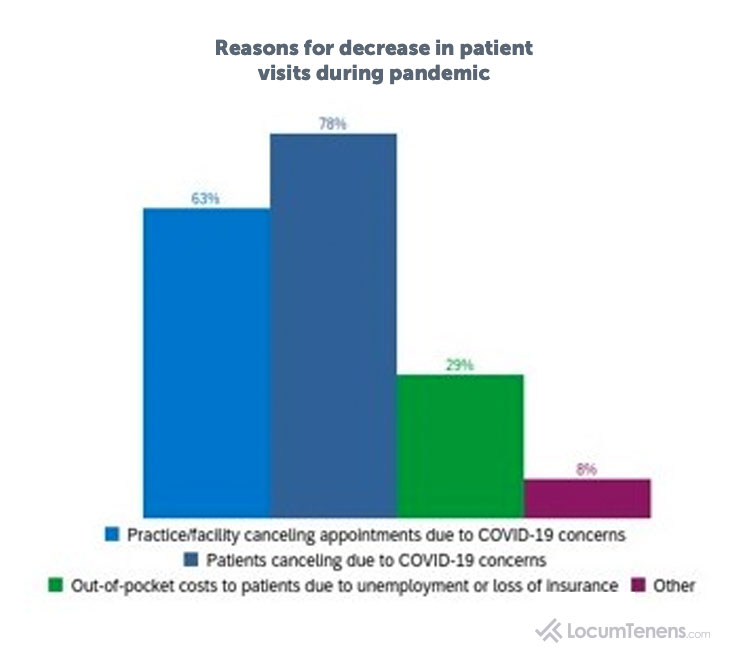 As the number of those unemployed in the U.S. continues to rise, currently at 11.1 million, these mostly uninsured patients can face difficulty receiving access to healthcare. When asked if they are concerned the rise in newly uninsured patients will continue keeping people away from routine visits and elective procedures, 73% of survey respondents said "yes." Surgeons and psychiatrists were most concerned, with 77% of each demographic saying they were concerned. Other specialties expressing a high amount of concern were healthcare practitioners from emergency medicine, primary care, critical care and anesthesia.
Concerned over newly uninsured patients (by specialty):
Surgery:77%
Psychiatry: 77%
Emergency Medicine:67%
Primary Care:76%
Critical Care:68%
Anesthesia:68%
Mental health concerns grow for patients
Mental health issues are on the rise due to COVID-19.
Sixty-one percent of respondents say they expect to see more mental health issues arise in their patients due to COVID-19. Half of those who commented say they are already seeing it, regardless of the type of patients they treat. Unsurprisingly, 80% of respondents from psychiatry are expecting a rise, but there is also a high expectation of seeing more patients with mental illness in emergency medicine, primary care, critical care and OB/GYN.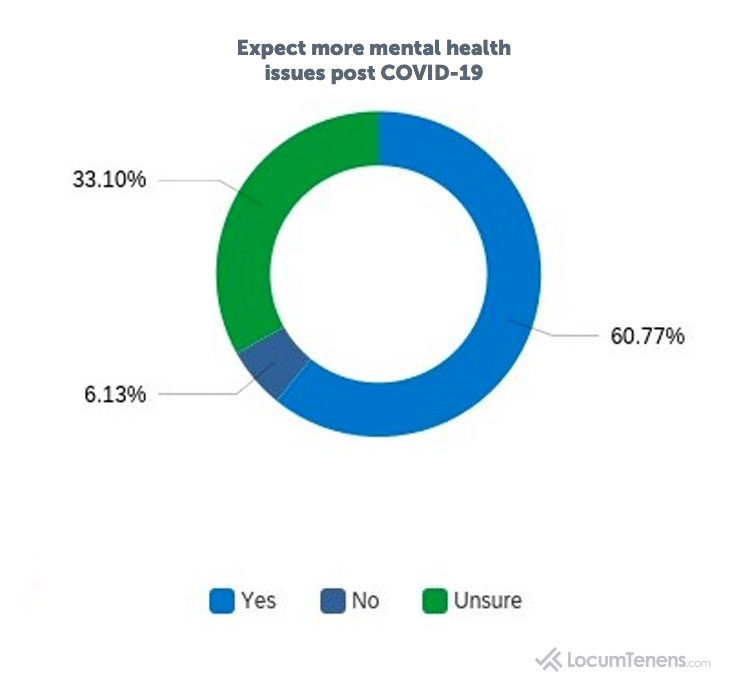 Expect more mental health issues post COVID-19 (by top five specialties):
Psychiatry: 80%
Emergency Medicine: 79%
Primary Care: 68%
Critical Care: 64%
OB/GYN: 61%
When asked to explain how they expect to see a change in their patients' mental health, the words "anxiety," "stress" and "depression" occurred the most frequently among respondents from every specialty. A family practice physician assistant from the southwest comments, "My patients already have the stress of poverty and discrimination. To become even more impoverished, isolated and discriminated against is leading to increased fear, anxiety and depression."
The majority (58%) say they are unsure how their organization will be equipped to care for an expected surge in metal health patients and 21% say they will institute telemedicine programs.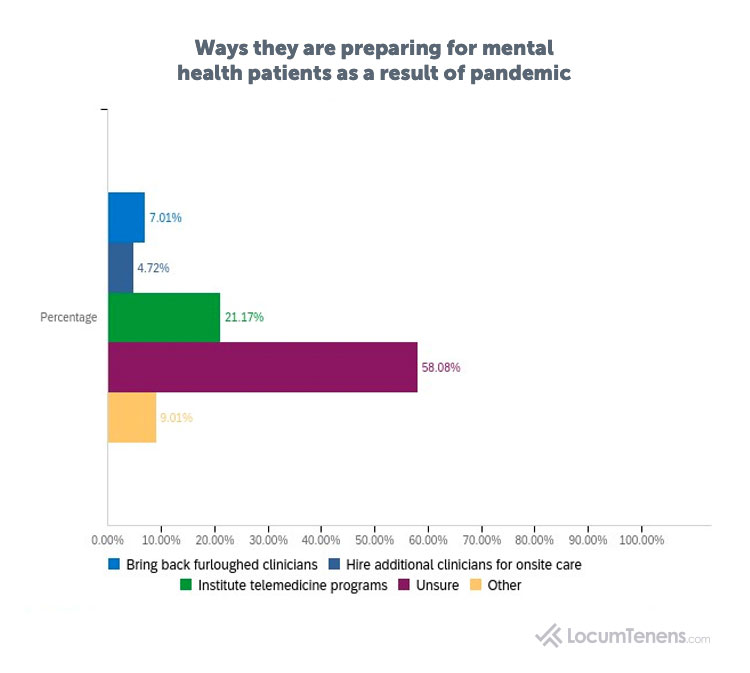 Mental health concerns increase for physicians and advanced practitioners
In addition, respondents themselves are experiencing stress, with more than half (52%) saying they have experienced an increase in stress, burnout, or mental health issues due to COVID-19.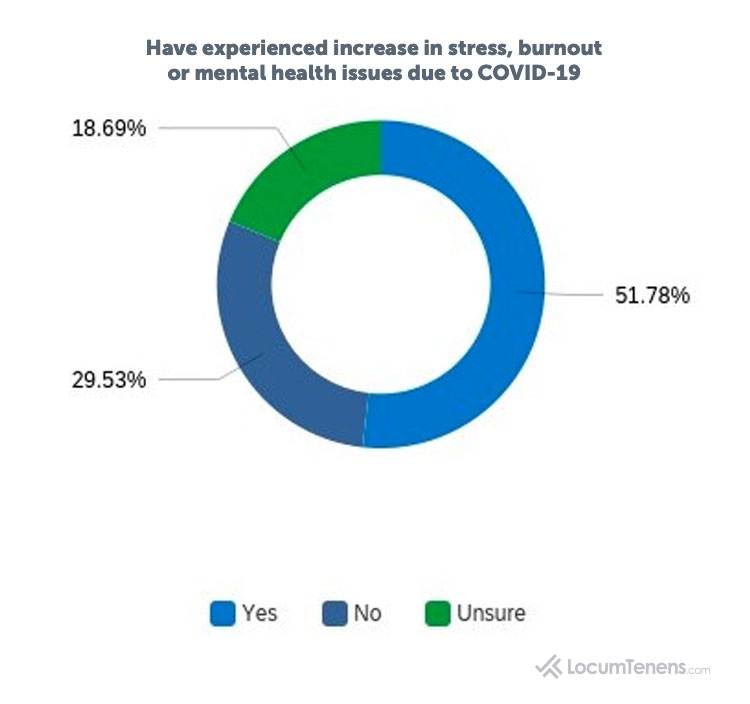 More women (61%) reported an increase in stress due to the pandemic than men (43%). One female OBGYN commented, "It is exhausting to provide care with the fear of COVID, the lack of personal connection and the uncertainty of what is to come."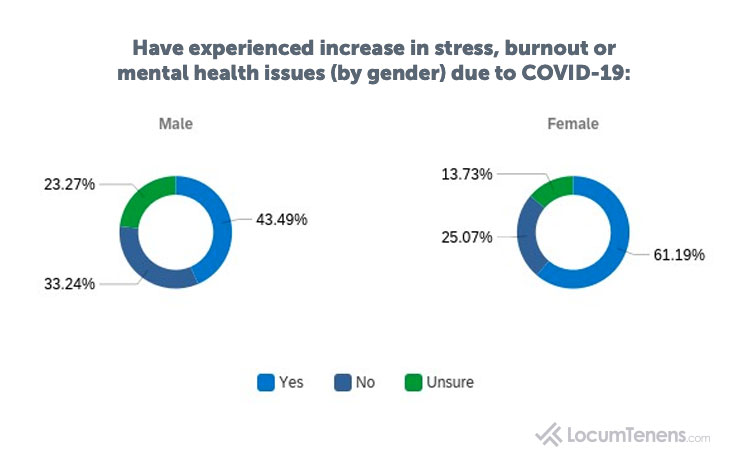 Only baby boomers (those born between 1946 and 1964) had less than half report stress or burnout, but still at 44%, while all other age groups had almost 60% of respondents report experiencing mental health issues.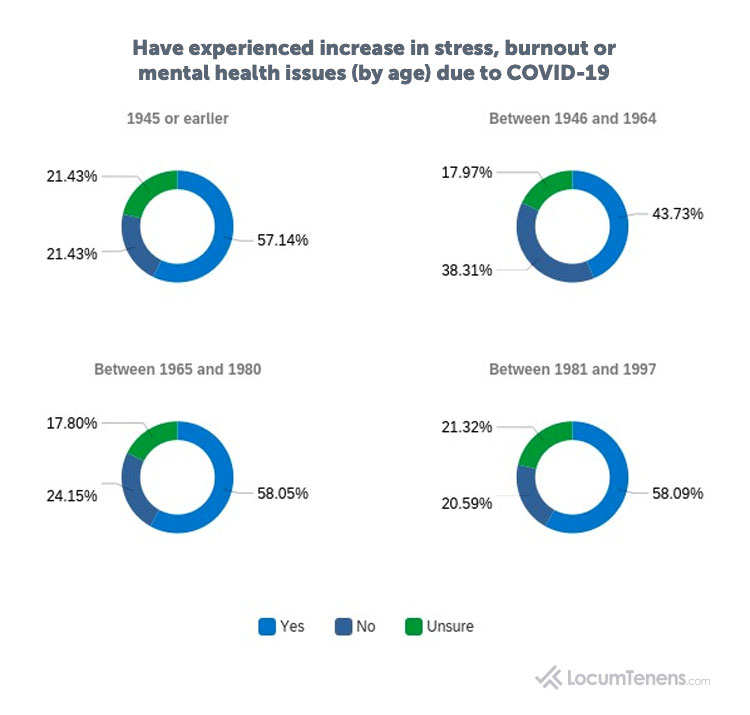 Breaking down per specialty, those in hospital medicine and primary care reported the highest increase in stress, burnout or mental health issues due to COVID-19 (57% and 55%, respectively), with those in anesthesia, psychiatry, and OB/GYN closely following.
Have experienced increase in stress, burnout or mental health issues (by specialty) due to COVID-19:
Hospital Medicine: 57%
Primary Care: 55%
Anesthesia: 54%
Psychiatry: 53%
OB/GYN: 52%
45%
Emergency Medicine: 39%
When asked to explain why they selected they were stressed, burned out or experiencing mental health issues, the most common answers were about job/financial uncertainty, worries over their or their family's health and concern for their patients. Many respondents also used words like "fear," "PTSD" and "isolation." As one physiatrist puts it, "We're not just treating medical issues, but a whole new and complex dimension of care involving psychological issues that impact recovery and healing, both mentally and physically."
"I believe we all have a universal stress as healthcare practitioners with the rise of a pandemic. I am concerned for patients. I am concerned for myself. I am concerned for my neighbors. I think it will be important to incorporate stress management for our providers including protected time off, stress outlets, and mental health counseling." ~Hospitalist
Many healthcare organizations are offering various programs to improve mental health and decrease stress among their healthcare providers. Most survey respondents who had solutions in place from their employers wrote they were provided free in-person and virtual counseling, employee assistance programs (EAPs) or 24-hour hotlines. Respondents in some of the hardest-hit specialties, like hospital medicine or critical care, commented their employer hired more temporary or locum tenens physicians to help alleviate stress.
"We have excellent staff support. I work at Oregon State Hospital, Salem. Our administration, colleagues and interdisciplinary staff are outstanding, and we are supports for each other," says one psychiatrist.
Unfortunately, many respondents commented their organization provided no solutions or programs at the time of the survey, or at least they are not aware of any. "Nothing" or "none" were common responses. A pulmonary nurse practitioner says, "My employer doesn't provide any help to reduce the stress of COVID-19. Instead, they expect you to do more with less." Another psychiatrist agrees: "My work hours have been cut, and administrators are demanding more work be done in fewer hours during times when stress levels are already elevated."
However, hundreds of survey respondents discussed personal solutions to improving their mental health. Whether employed in a permanent position or working as an independent contractor, many of those practicing personal care found the same solutions to reduce their burnout or stress. Unsurprisingly, most answers included exercise, particularly running and yoga, and spending time on hobbies, especially gardening and woodworking. "Implementing self-care helps," comments a psychologist, "like exercise, getting out into nature as much as possible, and the use of the phone to maintain contact with friends and family." "Faith" was also a common stress reducer.
Another major solution many clinicians stated was helpful to them was increasing their communication both at work and at home, but especially with peers. "Communicating with other physicians who are also in my field and discussing how to care for these patients and discussing our fears helps," says a psychiatrist. Similarly, an emergency medicine physician comments how important it is to have "other emergency physicians available to informally discuss issues and stressors."
Opinions on the future of healthcare as the pandemic continues
The survey also asked how healthcare providers are preparing now for a potential second wave of COVID-19, and how they think the "new normal" in healthcare will look going forward.
For preparing for another wave of the pandemic, most survey respondents mentioned protective gear for themselves and patients, but also a lot of people mentioned education—educating themselves better, but also educating the communities and their patients. Some remarked they would take this task on themselves, while others hoped the government or their facility administration would, for both providers and patients.
Almost half of the free-form responses regarding the "new normal" included some mention of telehealth or virtual care being here to stay. "I see more telemedicine with better reimbursements, including reimbursement for telephone calls and consults to patients. [There will be] slightly less utilization of the emergency department by patients due to fear of catching COVID-19. More patients will be utilizing telemedicine platforms."
Other respondents mentioned the continued use of safety protocols for both patients and staff, especially sanitizing, PPE (like gloves and masks) and distancing in waiting rooms. Many clinicians were concerned fewer elective or routine procedures will take place, even as many procedures are starting up again. An emergency medicine nurse practitioner expresses her concern: "Increase in morbidity and mortality will rise due to lack of follow up or fear of going into a health center. [There will be an] increase in mental health issues, including depression. There's potential for people to go hungry. Some communities will become stronger."
The uncertainty over the economic standing of the country affecting healthcare was mentioned many times as well. "I think clinics will continue to have a decrease in the number of patients, not because of fear of COVID, but because of limited resources/funds/insurance due to the impact COVID-19 had on the economy," predicts one family medicine physician.
That's not to say all healthcare providers are expecting the worst; numerous clinicians included "hope" in their responses or said, "more like the old normal by 2021."
One hospitalist offers us her hope for the future of healthcare. "I can't fathom the new normal, but I would hope to see a more collaborative effort of healthcare administrators and workers, improved transitions of care for patients, access to care, and community standards and support for patients' well-being."
Almost half of all respondents have been practicing medicine for more than 20 years.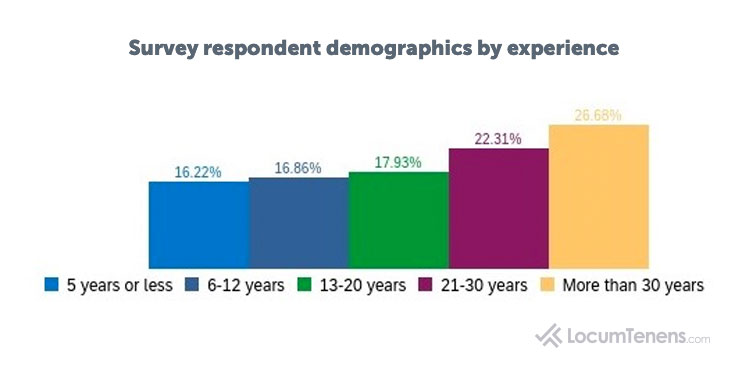 Almost half of respondents are from Generation X (born between 1965 and 1980) and approximately a third are Baby Boomers (born between 1946 and 1964).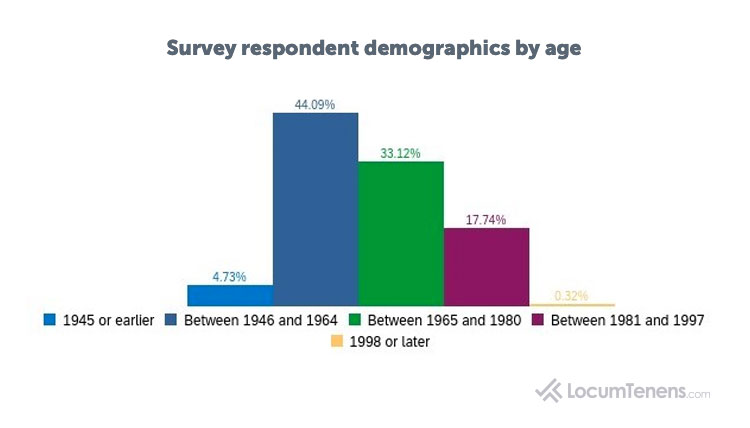 Survey methodology
The survey was conducted in June 2020 among a group of healthcare professionals, which included physicians, nurse practitioners, physician assistants, CRNAs, clinical nurse midwives, clinical nurse specialists and psychologists who have been placed by LocumTenens.com and those who have not. There was a total of 940 respondents who were self-selected and spanned all 50 states and 35 medical/surgical specialties. The survey's intent was to evaluate the current healthcare landscape amid the pandemic. Survey responses cover employment status, telehealth usage, furloughs and layoffs, mental health of both patients and healthcare practitioners, and resuming procedures, among many other topics.