How one healthcare facility leveraged a strategic partner's expertise to quickly formulate a custom workforce solution.
Disruptions within care teams are common in the healthcare sector, especially after the COVID-19 global health emergency. Healthcare institutions continually seek to fortify their workforces across facilities and specific care divisions, but in terms of recruitment and retention, certain specialties pose greater challenges.
The current dynamics of staffing within anesthesiology present a challenge to healthcare practices nationwide. Presently, anesthesiologists command considerable compensation packages. Consequently, hospitals and clinics experience significant fluctuations within full-time anesthesiology teams.
Challenge
Due to a combination of market conditions and the resignations and retirements of physicians, one hospital found itself short-staffed within its anesthesiology department. In response, they leveraged the versatility of locum tenens providers as an interim solution.
Solution
With volume and urgency in mind, the facility turned to LocumTenens.com to conduct a thorough assessment of the situation and to devise a customized workforce solution to maintain anesthesia care based on the facility's needs. This included daily consultations to provide progress updates and to gauge which specific areas needed support. With this partnership, the agency's dedicated recruitment teams worked quickly to rapidly confirm and credential a large number of locum tenens physicians.
Results
LocumTenens.com's high-touch approach kept the client informed and resulted in a workforce solution of 17 locum tenens physicians booked and credentialed in just over two weeks, enabling the client to swiftly deploy the physicians and to maintain anesthesia care for their patient community.
Conclusion
Most locum tenens physicians are booked at least 90 days ahead of their assignments. However, in specific circumstances, this can be expedited to ensure clients maintain service and patient communities continue to receive access to specialized care. While it is no small feat to go through the process at this speed, arriving at the right workforce solution that takes into account the business needs of the healthcare organization alongside the patients' care needs is critical to continued success.
Looking Ahead
Job Satisfaction by Specialty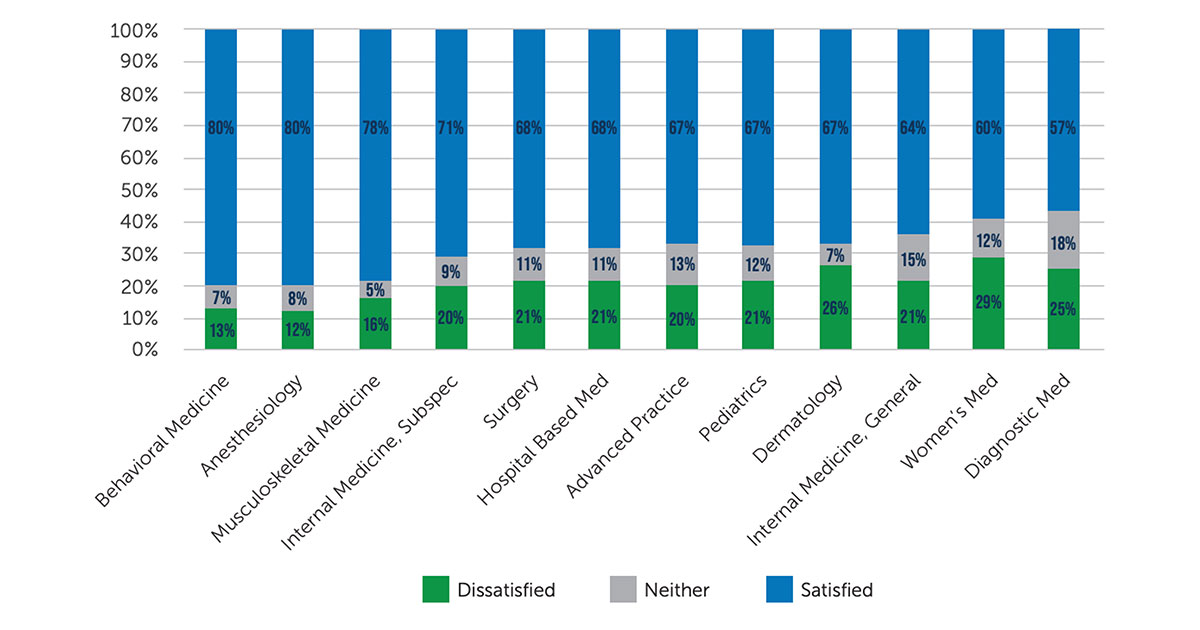 As anesthesia salaries climb—and providers' expectations rise with them—healthcare organizations must have highly compelling compensation packages to keep these workforces on board. It is strongly recommended that healthcare organizations partner with a staffing agency that not only has the resources to source qualified providers quickly, but also offers the expertise to identify a solution that reflects the realities of your organization's needs.