How one hospital innovated through the labor shortage to maintain maternity care for a community.
The current healthcare landscape is fraught with delicate personnel shortages. But even in the best of times, it is only natural for teams to fluctuate in size over time.
However, reduced access to maternity care is a considerable problem in the U.S., affecting up to 6.9 million women across the country, with 500,000 babies being born to women who reside in rural counties, where only 7% of obstetricians and CNMs practice. (March of Dimes Maternity Care Report, 2022.)
This case study takes a look at how one hospital serving a rural community partnered with LocumTenens.com to prevent an interruption in maternity care.
Challenge
A medical facility and regional healthcare hub servicing communities in the surrounding area experienced staffing shortages firsthand as their team of Certified Nurse Midwives (CNMs) began vacating in higher numbers for maternity leave. The hospital administrators naturally anticipated this would affect their staffing in the coming months. However, just as their CNM headcount was dipping, their facility began experiencing a high volume of patients. Nobody can be in two places at once, and this created a concerning strain on their ability to provide uninterrupted maternity care.
Filling medical roles in a rural area presented another challenge. To continue this aspect of maternity care uninterrupted, the hospital reached out to LocumTenens.com with a need for:
One week per month of CNM coverage.
24-hour call coverage.
The timing was urgent – help was needed as soon as new clinicians could be credentialed.
Solution
The hospital partnered with LocumTenens.com, which evaluated this need and leveraged its considerable network of qualified clinicians to find the right individuals for this assignment, taking into account the complexifying factors of this individual need:
The urgent timeframe of need vs. the lead time required to identify and credential clinicians who would be a good fit for the roles.
The amount and type of coverage needed.
The rural location of the facility.
Benefits
LocumTenens.com brought in two qualified CNMs swiftly, complementing the existing team at the hospital. By leaning on the agency as a strategic partner rather than simply filling headcount, the hospital saw some benefits they otherwise would not have:
A forward-thinking partnership that prioritizes the client's continuity of care.
Taking the strain off the facility's talent acquisition professionals, allowing them to focus on ongoing permanent roles.
Quality "matchmaking" because of the expertise of the recruiters, and the connections and knowledge they have for solving a headcount equation.
Results
The CNM team was swiftly brought back to its full strength.
Top-notch evaluation of individuals for the role was apparent – in fact, one of the clinicians was offered a permanent role on the team to take a permanent position with the facility!
The client now knows that they have more than a headcount-filling partner in LocumTenens.com – a flexible, full-time strategic resource they can rely on to improve healthcare for their community.
Conclusion
The facility and its patient community benefited from the macro and micro aspects of partnering with LocumTenens.com. Two important traits of an attentive agency partner are (1) the high-level strategy to understand a healthcare client's staffing needs in the context of current trends in the industry, and (2) connecting clients with the right people – with the right skillsets and dispositions – at a personal, case-by-case level.
In the case of one of the CNMs, this is validated on both sides by moving to a permanent role across the country – the hospital wanted to keep this clinician on their team, and they were so enamored of their assignment that they were willing to relocate. Filling vacancies is one thing, but finding the perfect fit is another.
The use of locum tenens clinicians is a critical tool for healthcare organizations and group practices to adapt to the evolving landscape of healthcare staffing.
Looking Ahead
Interest in Local Contract Work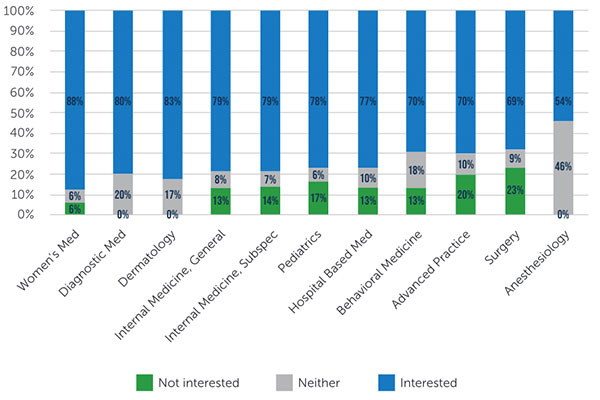 Interest in Traveling Locum Tenens Work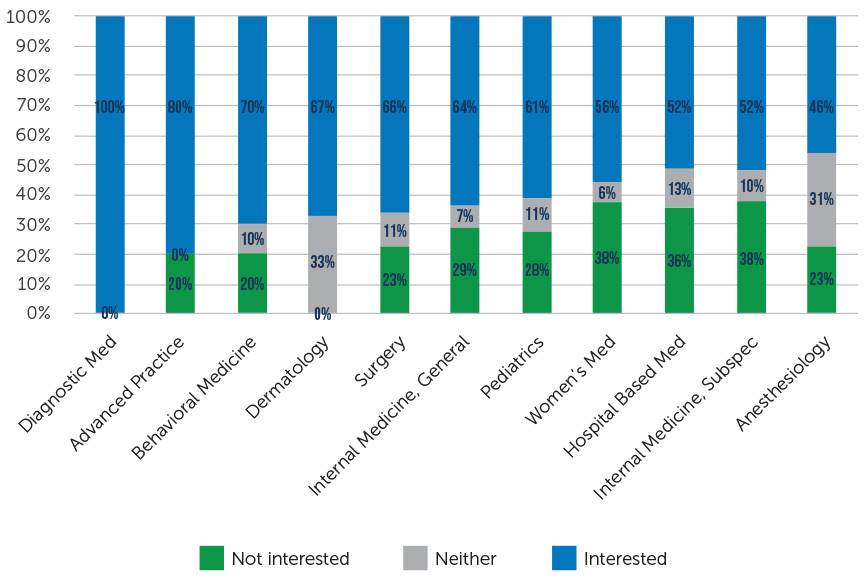 Women's health is an area that warrants closer attention. According to recent clinician survey data, more than half of women's health physicians are interested in traveling locum tenens work, and 88% are interested in local contract work. Connecting the right providers with the right clinical roles could be an opportunity to make progress against the problem of U.S. regions with low access to maternal care, also termed "maternal deserts."
Part of the same clinician survey showed that women's health clinicians have one of the lowest job satisfaction rates out of all specialties polled. Hospitals and group practices should keep a close eye on this indicator and have a strategy in place to protect the communities they serve from future interruptions.
Contact us today to get started on a staffing strategy that reflects the specific needs of your healthcare facility, workforce and patient community.